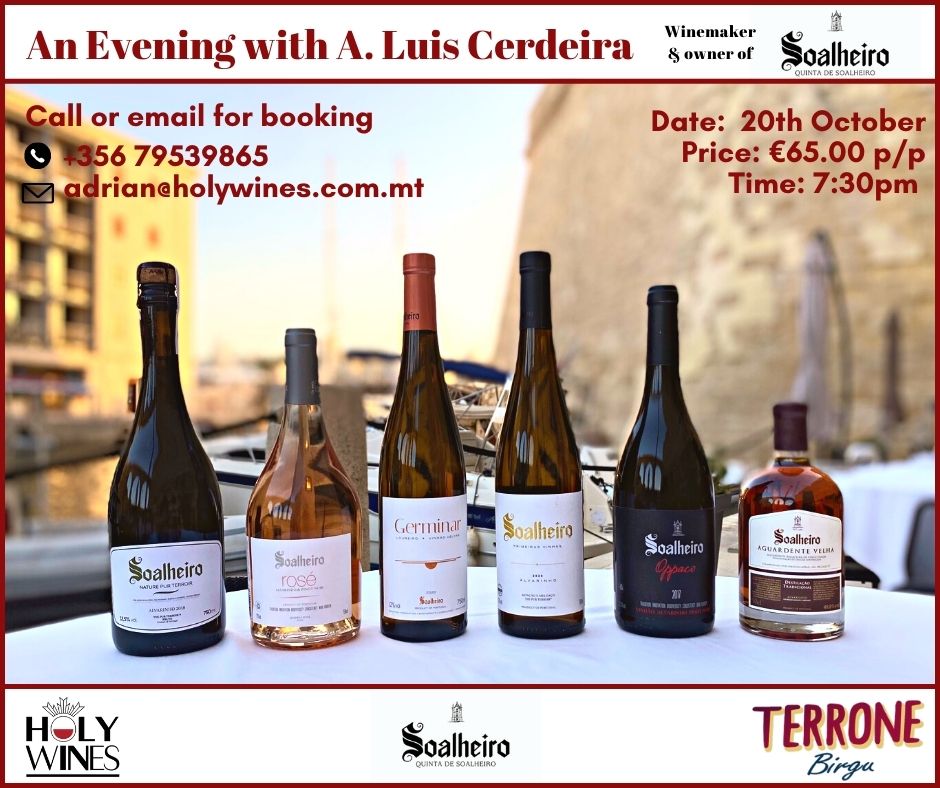 For my second wine & food pairing event of the season, Holy Wines is delighted to be collaborating with Terrone. Situated in the majestic Grand Harbour, Terrone is the perfect venue to welcome winemaker and owner of Quinta de Soalheiro Antonio Luis Cerderia. Maltese/Australian Chef Patron Adrian Hili brings years of experience within the culinary business. Having worked in Australia, Italy and the United Kingdom in the renowned London River Café, Adrian considers his specialty to be seasonal Mediterranean cuisine.
Quinta de Soalheiro was the first Alvarinho brand in Melgaço, and one of the first Portuguese producers of Alvarinho. The Monção e Melgaço sub-region is protected by a range of mountains that create the perfect conditions of rainfall, temperature and number of hours of sunshine needed to ripen the Alvarinho grapes. This very special microclimate led João Antonio Cerdeira to plant the first Alvarinho vine in 1974 and to create, in 1982, Quinta de Soalheiro. While pursuing the values of innovation, unconventionality, responsibility and excellence, it's the passion for vines and wines and the respect for their terroir that contribute to the continuous development of Soalheiro. Led by a multidisciplinary, proactive and highly motivated team, Soalheiro treads the path towards new challenges, attaining international recognition on its way. From its pioneering creation by João António Cerdeira in 1982 in Melgaço, to this day, its focus on quality has always been present, together with a determination to improve with each harvest.
Today, third-generation family members, siblings Maria João and António Luís, along with their mother Maria Palmira Cerdeira, have embraced this spirit of innovation. António Luís, with a graduate degree in oenology, has built a profound knowledge of the Alvarinho grape variety throughout his life. Maria João, a veterinarian by profession, assumed the responsibility for viticulture and successfully introduced organic farming into their vineyards.
This year Soalheiro celebrated 40 years from their first 1982 iconic vintage.
Venue: Terrone, Birgu
Date: Thursday 20th October 2022
Time: 19:30
Dress: Casual Smart
Price: Euro 65 (coffee and water included)
Prepayment is needed and confirmation via email is required
Menu:
amuse bouche
Espumante Bruto Nature 2018
–
sweetbreads with paleta Iberico
Mineral Rose' 2020 (magnum)
–
chargrilled octopus with lardo
Germinar 2020
–
wild, local fish fillet with mussels, chorizo & fregola
Primeiras Vinhas 2020 (magnum)
–
slow cooked veal shank with wine & sage
Oppaco 2017
–
bolo de amêndoa
–
Aguardente Velha
Kindly let me know in advance of any food intolerances or requirements.
Kindly call +356 79539865 or email: adrian@holywines.com.mt to book.
Participation is strictly through booking, prepayment via Revolut or banktransfer and will be confirmed upon the receipt of payment.
This is a seated event with a limited number of places. No walk-ins will be permitted to join the wine and dine specifically.