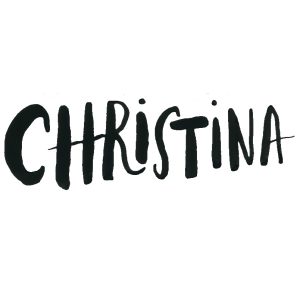 "Hi, I'm Christina…winegrower, winelover, passionate, fan of nature, mother & Austrian."
Christina Netzl, the congenial winemaker behind Christina wines, speaks about her personal journey in such a compelling, passionate and sweet way that I'll just let her do the talking here:
"I grew up with my sister at the mixed family-run farm of my parents and grandparents, cultivating different grains, corn, sugar beets, breeding pigs and growing some vines. Giving a helping hand almost everywhere on the farm, I fell in love with the wine production very early. I loved being in the vineyards, helping in the cellar and telling our customers the stories behind the wines. So, it was absolutely sure for me: I am becoming a winemaker! From a child's age I was used to sourcing our food directly from our farm or the neighbourhood. My parents later focused only on the wine growing and built up the winery to the 28 hectares we now have.
Growing up in the very "classic" wine scene, I learned everything about wine production form my father by helping in the vineyards and the cellar. As I was fascinated about all the microbiological processes behind the scenes, I decided to gain more knowledge by studying oenology and wine-management.
During studies I finished my internship at an importer in London where I got to know so many different wines and styles from all over the world, which I didn't know before. I was fascinated by the diversity of the big wine world and mainly impressed by organic produced wines from small producers all over the world.
Being a very creative person, I really focused on finding the typical style of our very unique wine-growing region Carnuntum,when I started to work in the winery with my parents in 2007.
Organic Certification
Increasingly concerned about soil conditions, micro-climates, and nature in the vineyards, my husband and I decided to gradually turn our vineyards to organic farming in 2013. A decision also influenced by raising our two little daughters! We did a soft change to finally 100% organic vineyard management and organic production in the cellar 3 years later. We did the change just because of our own attitude and never thought about getting certified, but now we want to proof all this work and effort and therefore started certification process with the vintage 2018, so the 2021 vintage was our first officially certified one.
Over the years, I've also been experimenting with different low-intervention methods in the cellar. I fell in love with them and the living wines they yield, and I ended up adding my own range of natural wines to the more classical ones 'inherited' from my father."
Christina wines are quickly garnering lots of attention in the natural wine scene thanks to their indisputable drinkability and eye-catching labels, which joyfully celebrate the beneficial critters living in the vineyards.
The labels of Christina wines,  are a tribute to the beneficiary insects that inhabit the vineyards. Not all bugs are bad – these useful little critters help manage pests and build soil health and biodiversity, which is so important in natural winemaking!