"Holy Table ∞" – This was an idea I had back in December 2019 but for obvious reasons it was shelved indefinitely. Now that we are living with the pandemic , I've decided that it's quite pointless to wait longer. So, what is "Holy Table ∞"?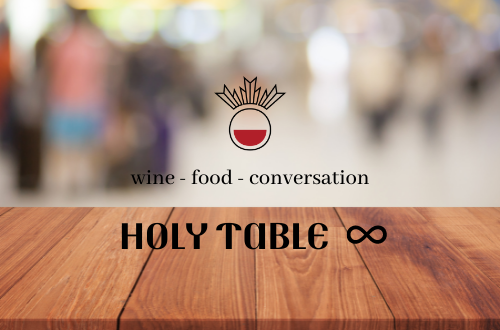 The people who know me personally know that I have a passion not only for wine and food, but also for cooking! I've decided to use this passion and start offering food and wine pairing dinners in a private setting. For those of you asking; can't you do this at a restaurant? My answer is "No not really." This is not the same experience as in a restaurant. There isn't going to be a food menu here, I'll be  creating a food and wine pairing of my choice and for the most adventurous, wines can be served blind. (Don't worry, you will be asked if there are any food allergies or dislikes at the time of booking & also the style and value of wines you'd like to taste
.) The infinity sign represents the indefinite times this experience can be repeated
This will also feature food that is simpler & more hearty, paired with your choice of wines rather than a showstopper competition of the most photogenic plate of food
. This is also a more casual way how to enjoy both the food and the wine in a private setting without any formalities. I'll be explaining both the food and wine and why I think they pair well together and you're free to ask any questions or best of all discuss anything food and wine related with me. I'm no wine expert but I do know my wines
. When it comes to the food, all I know is what I've learnt by trial and error in my home kitchen (my wife can definitely testify to that
) but I'll promise that you won't be disappointed!
Apart from the love for everything food and wine related, this concept will allow me to have you guests trying and tasting new wines that otherwise you probably wouldn't. Let's face it, buying wine can be intimidating at times and most of us are guilty of choosing the same favorite bottle out of fear of trying something new (& that God forbid we won't like it) at some point in our lives. Trying and tasting new wines is what sparked my hunger to keep studying and discovering more niche wines. Yes, there would be the odd occasion where you wouldn't like a particular wine someday but that's perfectly normal and also expected. I might add that the beauty of wine is the fact that it's so subjective!
On a final note "Holy Table ∞" may not feel like it's the best idea for people stuck in their Bordeaux, Burgundies, Barolos, Brunellos or any of the other classic regions. As much as I do love these classic wines from these iconic appellations, it's also time to accept the fact that the world of wine is constantly evolving and there's much more to try, taste and enjoy these days! Global warming is making sure of that
P.S. There could also be a fair amount of garlic in the food, so you've been warned