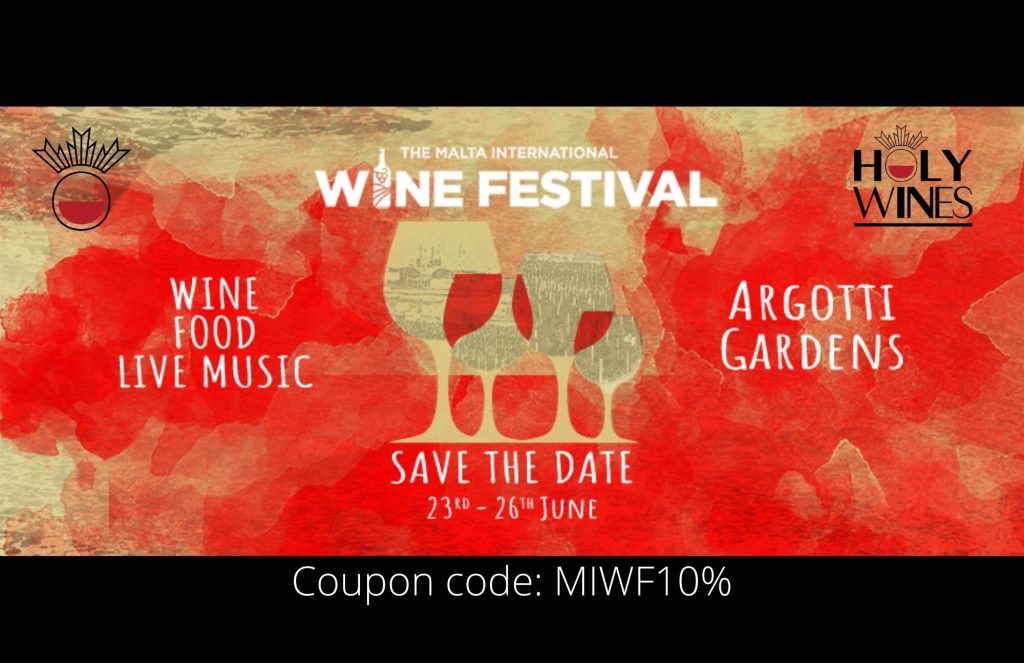 The 2nd edition of the Malta International Wine Festival is almost here! A new venue, Argotti Gardens, will welcome this edition between the 23rd and 26th June from 18:00 onwards.
The festival focuses on showcasing an extensive range of wines from Malta and around the world! The event can be enjoyed by everyone from the seasoned connoisseur to the curious newcomer!
Learn trade secrets in the art of winemaking, dazzle your palate with the exquisite flavors of some of the best wines in the world, and even rub elbows with more than a few notable winemakers who will use their expert knowledge to let you in on some winemaking tips and tricks, all while you enjoy live music in an atmospheric setting.
Be a part of history for this year's annual Malta International Wine Festival and even take a piece of it home with you! Festival-goers can purchase wine by the glass or by the bottle from over 10 international winemakers offering 200+ wines to choose from, all with unique flavors and styles.
Are you more than just someone who likes a nice glass of wine from time to time? Fancy yourself a winemaker of sorts? If you have ever wanted to make your very own wine or are looking for some tips on how to make your next batch a hit at the big family gathering, there's plenty to learn in regards to the art of winemaking at the annual festival! Whether you're experienced when it comes to wine and winemaking, or if you're just getting started, the festival is guaranteed to have something that pleases every guest, every palate, and every wallet.
Also included at the festival is an on-site liquor store that allows visitors to purchase deliciously unique wines that will surely dazzle the taste buds. These professional sommeliers will cover some trade secrets when it comes to making the most delectable wines, and these seminars will take place in designated areas throughout the festival.
Hungry? Plenty of food will be found to go along with all the types of wine served. Enjoy expertly prepared thematic food and wine sessions while taking in the full atmospheric excursion. If you're ready to kick back, relax, have a good time, and enjoy the delicious flavors of some of the best wines the world has to offer, be sure to venture out to The Malta International Wine Festival!