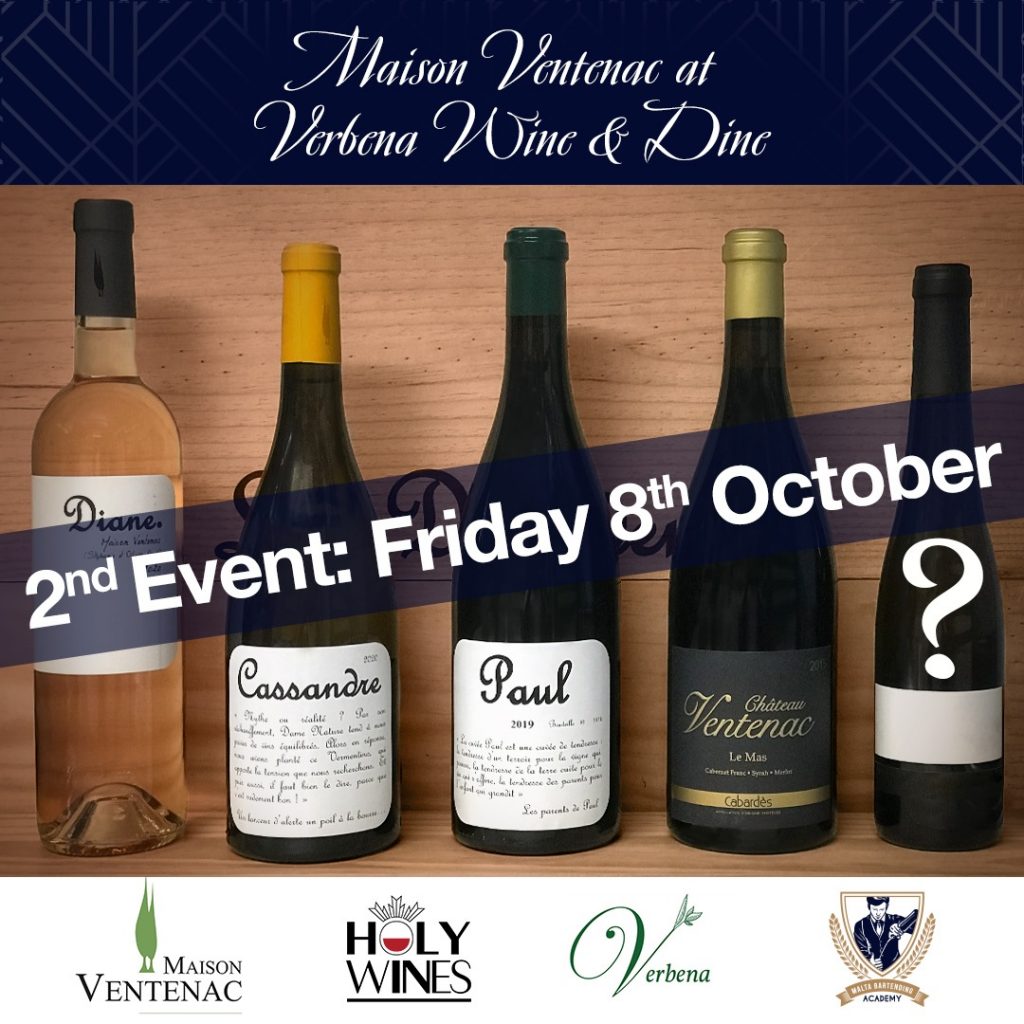 To celebrate the launch of Maison Ventenac wines in Malta, we are organising a two-night wine and food pairing dinner in collaboration with The Malta Bartending Academy and Verbena Wine and Dine.
After the first evening, to be held on the 1st October, sold out in just a few days, we announced another evening, this time to be held on the 8th of October 2021.
Venue: Verbena Wine & Dine in Zebbiegh, Mgarr
Dates: Friday 1 October (fully booked) and Friday 8 October
Time: 19:45 seated for 20:00
Price EUR 60 (coffee and water included)
Prepayment is needed and confirmation via email is required
Menu:
Welcome Drink:
Cuvée "Diane" 2020 – Amouse Bouche
Pressed Game Terrine
Laka Glaze, sweet potato foam
Cassandre 2020 – Starter
Crispy Veal Croquette
Parsnip & Vanilla Puree, glazed shallots, garden salad.
Paul 2019 – Intermediate
Sweet Potato & Speck Agnolotti
Herb Veloute, chive oil.
Le Mas 2015 – Main Course
Pork Duo
Slow cooked pork belly, hamhock spring roll, spice napa cabbage.
"Surprise Wine" with the Dessert
Ginger Biscuit, Pistachio and Cinnamon Semifreddo
Hazelnut cream beignet
Kindly let us know in advance of any food intollerances or requirements
Contact us via email on bernard.muscat@maltabartendingacademy.com or 79205364.
Participation is strictly through booking, prepayment via Revolut and will be confirmed upon the receipt of payment.
This is a seated event with a limited number of places. Masks are to be worn until you are seated, hand sanitising at the door and social distancing must be followed.
No walk-ins will be permitted to join the wine and dine specifically.