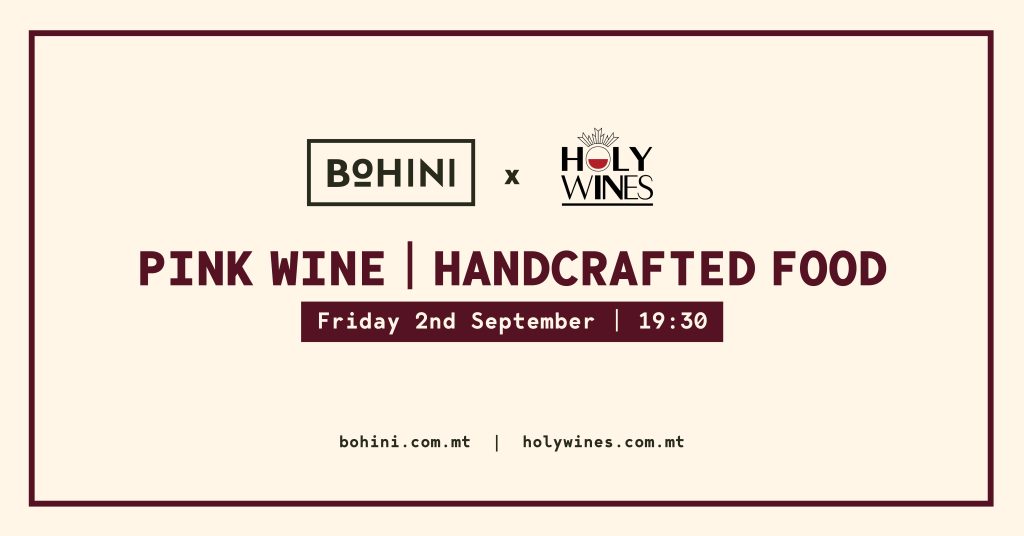 Welcoming the new season of wine & food pairing, Holy Wines is collaborating with Bohini for the next wine & dine event. Being a great fan of rosé wine myself I can't wait to share with you this event featuring 5 different kinds of pink wines from 5 different countries paired with yummy handcrafted food!
Venue: Bohini, Mgarr
Date: Friday 2nd September 2022
Time: 19:30
Dress: Casual
Price: Euro 45 (coffee and water included)
Prepayment is needed and confirmation via email is required
Menu:
Salpicão de Melgaço & Local Fresh Gbejna, Lemon Parsley Dressing, Micro-Greens
Espumante Bruto Rosé – Quinta de Soalheiro – Minho, Portugal
(Alvarinho, Pinot Noir & Touriga Nacional)
Crostini with Homemade Caponata & Fresh Herbs
Rosado 2021 – Viña Zorzal Wines – Navarra, Spain
(Grenache)
Pumpkin & Kale Croquette with Sage & Pecorino Dip
Pinot Noir Rose' 2021 – LQLC – Provence, France
(Pinot Noir)
Fresh Cod, Pea Purée, Asparagus, Caviar, Micro-Greens
or
Prosciutto, Truffle Mushroom, Rosemary, Chicken Roulade
Petalo 2020 – Tenuta Enza La Fauci – Sicily, Italy
(Nocera)
Berry Cheesecake
Spätburgunder Weißherbst Auslese 2011 – Fritz Waßmer – Baden, Germany
(Pinot Noir)
Kindly let me know in advance of any food intolerances or requirements.
Kindly call +356 79457649 or email: hello@bohini.com.mt to book.
Participation is strictly through booking, prepayment via Revolut or banktransfer and will be confirmed upon the receipt of payment.
This is a seated event with a limited number of places. No walk-ins will be permitted to join the wine and dine specifically.